The plans and approvals took considerable time. Height and number of stories had to be dealt with. A structural engineer had to be consulted with. Our rules here are very easy compared to around the country. I used the Broderbund 3D Home Architect Deluxe 3.0 to do most of the design.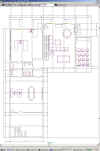 The basement will look out on the lake. It will contain office, conference room, computer room, family room, and a home entertainment room.
The first floor will be mostly open, have an in-law suite, and a large garage.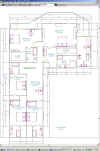 Part of the second floor used to be the first floor. It will be the master bedroom and the main guest room. There will eventually be three additional guest rooms over the garage.

There was two small bedrooms in the half story. To get past zoning requirements, of not exceeding two and one half stories, we have to convert these to lofts.